CAMPAIGN 
DAWNLAND's impact team, led by Tracy Rector, follows a model established by our organization, the Upstander Project. We use film, intensive teacher professional development, and interactive educator tools to help bystanders become "upstanders." Upstanders are people who stand up and speak out against injustice. Our strategy is to use post-film discussions to teach the history that has been intentionally disavowed by the dominant culture, and build awareness and develop understanding of Native peoples and the issues that are important to them.
#DawnlandMovie #Wabanaki #NativePride #WabanakiPublicHealth #TruthAndReconciliation #NICWA #TRHT #HonorNativeLand
YOU ARE ON INDIGENOUS LAND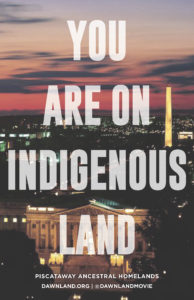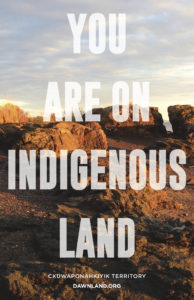 We invite action at screenings by modeling Indigenous land acknowledgements using words, posters, and plaques in the spirit of the #HonorNativeLand campaign. 
Click here to access the folder of all You Are On Indigenous Land posters. Some examples are shown here.
DAWNLAND TEACHER'S GUIDE
This website includes a comprehensive teacher's guide to help teachers get the most out of the documentary film, DAWNLAND, and its companion short films. The guide is tightly bound to the films and aims to help connect the dots between the viewing and learning processes. The inquiries indicate how scenes from DAWNLAND and the lessons in the guide best interact.
The Compelling Question of the DAWNLAND Teacher's Guide is: What is the relationship between the taking of the land and the taking of the children?
This question frames the study across five separate but related inquiries and will help students collect and organize evidence to support an argument that answers the question. The 1st inquiry of the guide is freely available as an online resource.
To make sense of the historical roots of the DAWNLAND story, the guide will contain a digital historical timeline spanning thousands of years, beginning with the presence of Indigenous peoples on Turtle Island. The timeline prioritizes events starting in the seventeenth century. Dates and events are linked to text, images, maps, audio, and video to support further inquiry. While extensive, the timeline is not exhaustive of the major events of importance to Native peoples in New England and North America.
PARTNERS IN ACTION
Maine-Wabanaki REACH – advocates for Wabanaki self-determination
Anisfield-Wolf Book Award – allies in racial equity
Reclaiming Native Truth – A project to dispel America's myths and misconceptions